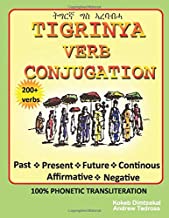 As a PCV in Tigray, Andrew Tadross 'nerded out' on two divergent subject matters…the Tigrinya language and the Ethiopian landscape.  The latter an extension of his career path in landscape architecture, the former needed just to interact in his rural village.  Being of the mindset to 'make a list' these two interests soon became personal projects that he is still involved with seven years later.
Andrew struggled with Tigrinya, but was determined to make sense of the language.  With the help of a friend, Abraham Teklu, he took on the task of writing The Essential Guide to Tigrinya – a 200-page reference guide with grammar, phrases, and vocabulary.  This book, published two years after he completed his service, has become the best, and one of the only, Tigrinya language guidebooks on the market.  Andrew followed up this book, with two similar books for Amharic, and Afan Oromo (Abebe Bulto), following a similar template, and of course with the help of an Ethiopian partner.  This year, he published a new type of book, Tigrinya Verb Conjugation, with Kokeb Dimstekal, a collection of 200 verbs conjugated in past, present, and continuous, affirmative, and negative tenses.  Similar books for Amharic and Afan Oromo are in progress.
Andrew's other passion, landscape architecture, has also provided connections to Ethiopia as an RPCV.  Two years after leaving the country, he returned to teach two semesters at the Ethiopian Institute of Architecture, Building Construction, and City Development in Addis Ababa.  During this period he worked with a team of Ethiopians and RPCVs who were building the new Axumite Heritage Foundation Library to provide a landscape design that laid out an entry plaza,  a broad allee of palm trees, and circulation amongst the library, a historical Italianate building that will serve as a cultural museum, and a new 'gojo' café.  Andrew's next project is a comprehensive guidebook for Ethiopian landscape plants, expected by the end of 2020.
The continuation of his work and interest in Ethiopia years after his service is a testament to Andrew's love of the country and his desire to add new layers of understanding to his experience, and that of others.  Above all though, the partnerships and friendships in completing these projects have been deeply rewarding.